Safety technology at STOBER.
In general, the term safety technology covers all technical devices that serve to reduce hazards to people and the environment.
Specifically, machines or systems are usually controlled with electrical or electronic systems. These systems are responsible for reducing the potential for hazards. For this reason, they must meet certain requirements.
The requirements for implementing risk reduction and for individual modules are described in national and international standards. The special provisions for drive controllers are set out in the international product standard DIN EN 61800, with Part 5 of the standard explicitly describing electrical drive systems with integrated safety functions.
True to the motto: Better safe than sorry!
What does the international standard DIN EN 61800-5-2 contain?
The international standard DIN EN 61800-5-2 specifies the requirements for the safety of electric power drives with adjustable speed. Manufacturers of drive controllers can have the safety integrity of their products certified by approved testing bodies by implementing the defined requirements.
What safety functions are there and what are they needed for?
A safety function is the control function of a machine that reduces various risks arising from it to an acceptable level.
For better readability, we categorize the safety functions into the functions of stopping, limiting, positioning, braking and monitoring. Learn more …
How do I secure gravity-loaded axes in accordance with standards?
The following publications, for example, indicate which measures can or should be taken to secure gravity-loaded axes:
– DGUV Division Information Sheet No. 005 09/2012: Gravity-loaded axes (vertical axes)
– DIN EN ISO 16090-1:2019-12: Machine tool safety – Machining centers, milling machines, transfer machines, Annex G: Gravity-loaded axes.
The publications indicate which braking devices are suitable for safeguarding gravity-loaded axes, depending on the particular hazard situation.
The DIN standard is based on the DGUV publication, but in some cases places more stringent requirements on the solution concept. Both publications describe recommendations for cyclic brake tests. In principle, the DIN standard always requires this.
Should a person be able to stay completely or partially below the vertical axis, DIN and DGUV suggest the use of a holding brake in combination with a redundant brake system. Learn more …
For this application, STOBER offers a solution that was developed together with the company Pilz: The SD6 drive controller with the SE6 safety module offers innovative, encoder-independent safety functions and safe brake management for up to two brakes.
The comprehensive safety functions meet the requirements of DNI EN 61800-5-2 and are certified in accordance with SIL 3, PL e (Cat. 4). The SD6 drive controller meets the requirements of DGUV and DIN EN ISO 16090-1:2019-12 for safeguarding gravity-loaded axes, for example, in combination with two other STOBER components. By connecting a STOBER motor with a holding brake and the ServoStop motor adapter with integrated brake, STOBER offers a simple and safe solution for machine designers and engineers.
What role does the service concept play in safety technology?
Generally speaking, direct or indirect experience with a manufacturer's machines often plays a decisive role when purchasing machines and systems. Manufacturers of machines that are known in the field of operating technology or production planning for their outstanding consistency or ease of maintenance are often given preference.
Due to the special status of machine safety and the components in integrated these machines, higher requirements apply to service work. Depending on the service concept, the on-site operating technology might not be able to carry out maintenance work, such as when a safe encoder attachment with verification guidance is involved. Moreover, the technology might even not be allowed to execute at all, which in turn results in increased downtime.
To put it provocatively: the serviceability of the entire machine stands or falls with the service concept for the safety technology.
What are the safety figures?
Depending on the applicable standard, the required or achievable safety levels are specified in SIL (Safety Integrity Level) or PL (Performance Level). Both are based on the statistical probability of a dangerous failure.
While in the area of product standards for components such as drive controllers, the classification according to SIL is used; PL is used in general machine and plant engineering, which is usually oriented towards DIN EN ISO 13849.
DIN EN 61800-5-2 as the product standard for drive controllers classifies the safety level from SIL 1 to SIL 3, with SIL 3 offering the highest safety.

DIN EN ISO 13849 defines safety levels from PLa to PLe and describes their implementation on the basis of categories B, 1, 2, 3 and 4. PLe in category 4 offers the highest safety in this classification.
What is SSR and what makes it better than SLS?
The safety function Safely Limited Speed (SLS) monitors one velocity, while the safety function Safe Speed Range (SSR) monitors an entire speed range.
SLS ensures that a movement is executed at the maximum permissible velocity regardless of direction.
SSR, on the other hand, can selectively reduce a permissible velocity in only one direction. A typical application is the travel range end of linear axes, where, for example, a permitted travel range in meters per minute can be specified.
Alternatively, SSR monitors whether a drive adheres to a defined velocity window. It's a classic application in food conveying systems.
What are the advantages of reducing safety-relevant components?
In general, the number of (multi-vendor) components increases the complexity of a system and, in turn, its susceptibility to errors during planning and commissioning as well as operation and maintenance.
A good example in terms of effort and problem definition is the classic implementation of the safety function Safely Limited Speed (SLS) on a highly dynamic servo drive.
The determination of the velocity for safety technology is usually based on a measuring device, the encoder. Its installation, connection, the associated signal routing and the evaluation of the signals are part of the safety consideration.
In addition to obvious sources of error, such as the mechanical coupling to the actuator, there are also lurking manufacturer-specific specifications for the connection quality or for the plausibility check of the measured values performed by the user. This often creates high hurdles even for experts and is not always possible.
In addition, there may be manufacturer-specific restrictions on the selection of drives and measuring devices, so that the combination actually required by a customer is not available at all.
When it comes to servicing, at the latest, the extensive system knowledge required for this is often not available even to well-trained service staff or presents them with major challenges, which can have a negative impact on machine downtime.
What is safe brake management?
Safe brake management in machine and system automation is a complex and important topic. If it is neglected, harm can come to people, the environment and the machine!
This becomes particularly clear in the context of gravity-loaded axes (also known as vertical axes). Mechanical wear or contamination of the brakes with oil can cause the axis to drop or fall unintentionally.
If brake failure cannot be ruled out and people may be in the danger zone, risk reduction measures must be taken.
STOBER safety technology
Safe brake management includes both the safe control of the brakes and their cyclical tests as well as compliance with the associated test intervals. Learn more …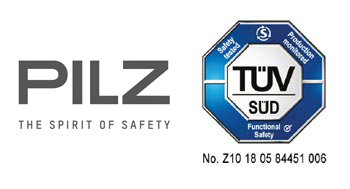 Further topics related to safety technology