Optimize in terms of energy.
Energy efficiency is highly relevant in drive technology. Driven by environmental legislation, the asynchronous motor sector is gradually introducing minimum efficiency levels that motors must meet. Otherwise, these motors cannot be placed on the market. And that applies to just about all industrialized countries.
The experts at STOBER will be happy to help you design your entire drive train.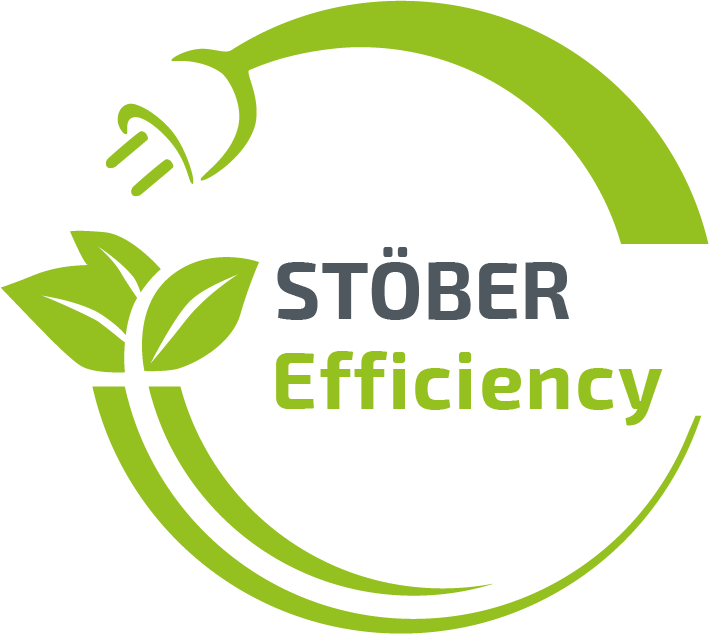 New ecodesign requirements as of July 2021.
The level of requirements is increasing: EU Regulation 2019/1781
Three-phase motors with a rated output power between 0.75 and a maximum of 1000 kW must achieve the efficiency level of class IE3 by July 2021.
For motors with an output between 75 and 200 kW, the efficiency level of class IE4 is mandatory from July 2023 onwards.
STOBER asynchronous motors are IE3-certified in accordance with IEC 60034-30. Premium Efficiency class. As a result, especially profitable in terms of energy.
STOBER Lean motors as strictly encoderless servo motors without a fan reach efficiencies of up to 96%. And as a result, energy efficiency class IE5!
Energy efficiency requirements also for corresponding drive controllers
All drive controllers from STOBER meet the specified requirements in accordance with the new Ecodesign Directive 2019/1781 for electric motors and speed controls.
Efficiency classes and their implementation in the asynchronous world
The current specifications in terms of efficiency classes are internationally standardized. As far as their implementation is concerned, it is up to each individual country to decide when which legal measures have to be enacted and strictly complied with.
The successive increase in energy efficiency classes involves a great deal of effort for suppliers, but also for customers.
Manufacturing and certifying the engines requires a lot of resources and drives up costs. Customers also have a great deal to do when integrating new products into their existing applications, often in modified dimensions, and when ensuring that "old" engines can be replaced by new ones if something breaks down.
And what applies to synchronous servo motors?
Synchronous servo motors are currently exempt from energy efficiency regulations. Nevertheless, one can safely assume that this area will also see some movement in the future. But synchronous servo motors have always shone with good or better efficiencies than comparable asynchronous motors.
Whether it makes overall economic sense for legislators to introduce regulations can no doubt be questioned. However, the asynchronous world overlaps with the world of synchronous motors. Certain voices in marketing circles are already proclaiming that they meet IE4/IE5 for synchronous servo motors.
For the synchronous servo motors from STOBER, efficiency will also be high on the list of priorities for future developments to be prepared for future requirements.
Importance of energy efficiency when selecting a motor
The basis for successful energy efficiency is clarifying the exact demand for mechanical power.
Excessive safety margins should be avoided in the design. For example, if motors with oversized power reserves are used, they will consistently operate below their rated power. In terms of energy efficiency, this is very counterproductive. The lower efficiency with unused energy consumption is compounded by poor control characteristics, higher procurement costs, and possibly unnecessary problems with excessive weight.
Optimize entire processes in terms of energy
Motion control and axis control must be included in any full efficiency analysis of a machine or automation system.
Detailed knowledge of drive controllers and associated software functions, as taught in STOBER training programs, makes it possible to efficiently fine-tune the axis control system in order to exploit all its potential for efficiency.
This might also interest you