Technology you can be passionate about.
Tradition that makes you proud.
A team that provides support.
At our company, we put people first.
At STOBER, you have the opportunity to further develop your professional and personal strengths at a high level. The family atmosphere promotes a welcoming, cooperative work environment where people interact with a sense of partnership and trust.
As an independent family business with a long tradition, our actions are marked by continuity and independence. Our extraordinary rate of employee retention shows that long-term successful cooperation is close to our hearts.
An internationally active company with the charm of a family business
While STOBER has deep roots in the Pforzheim region, it is also active in an international, dynamic market and has a lot to offer. With subsidiaries in China, France, Great Britain, Italy, Japan, Austria, Taiwan, Turkey, Switzerland and the USA, we offer exciting, diverse fields of tasks in a globally active company.
We encourage proactive, independent work
We offer freedom and flexibility
Our work is challenging and variedund abwechslungsreich.
We engage with trust and as equals.
We think in the long term and like a family.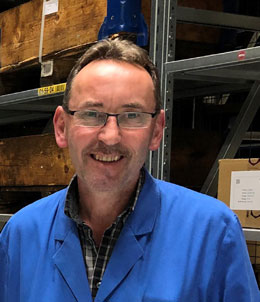 "The bosses know their employees and I feel like they are also aware of their responsibility towards the employees.
I have interesting, varied activities with new challenges all the time. Working with colleagues from upstream and downstream departments is enjoyable.
There are professional development opportunities for interested employees. Social benefits, flexible work hours, company bikes, etc. and, last but not least, something I really appreciate is that, in more than 30 years of working for the company, my salary has never been a month late.
Ralf Supper, Segment Manager Logistics, Plant 3
Benefits of STOBER: What we offer

Company pension scheme
Thinking about tomorrow
today.

Employee discounts
The STOBER Plus app.

Family business
All for one, one for all.

Health Management
A wide range of health and
sports activities.

Company bike
Ride your bike to work?
Let's go!

Parking
Free parking.

Good transportation
connections
Your own personal job ticket.

Agreed
special payments
Vacation and Christmas bonuses.

Work-life balance
Flexible and mobile
work.

Canteen
STOBER canteen and meal allowances.

Further training opportunities
Use it or lose it.

Events for employes
Summer parties, cycling events,
hiking tours, and much more.