Metal specialists with a passion for technology have a home here – we give you the diverse tasks you are looking for. Job rotation, state-of-the-art machines, and demanding products: At our company, you can put your knowledge to full use and still learn something new. It's a team that welcomes you with open arms, with colleagues who stick together and have each other's backs. Here, everyone can rely on each other. That's how we put things in motion.
Whether you have little or a lot of professional experience or are just starting out in your career, you will find interesting tasks and challenges at our company. We provide the right training programs to help you develop your career skills.
We offer exciting, attractive, and challenging positions in a wide range of fields.
Industrial mechanic.
Metal technology specialist.
Warehouse logistics specialist.
Process mechanic for coating technology.
Thomas Haug, metal specialist, on his job at STOBER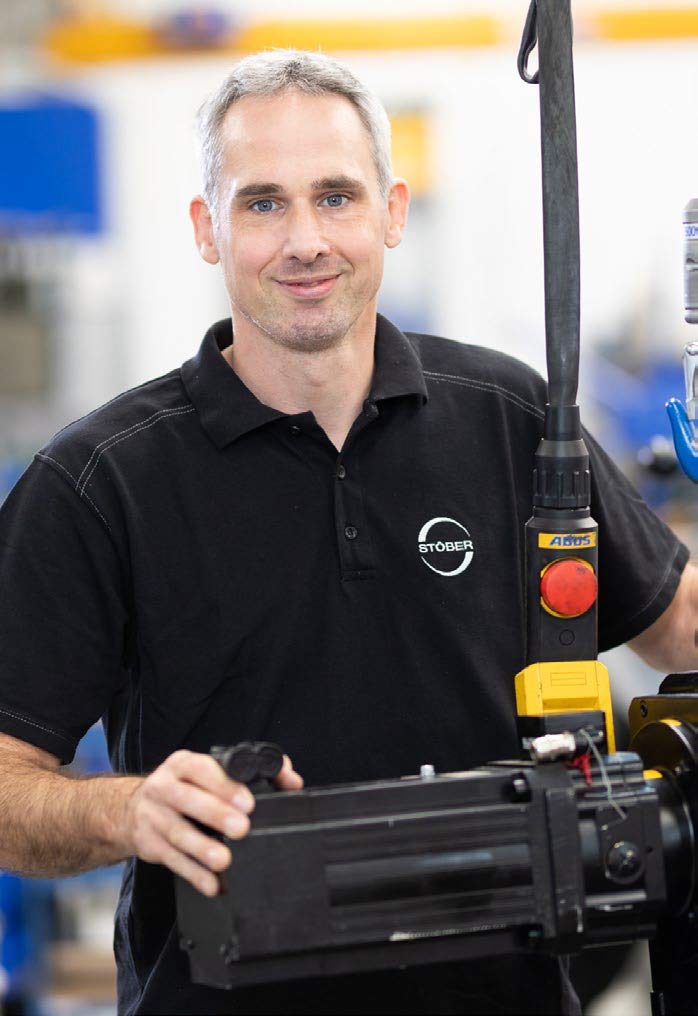 How would you describe your day-to-day work?
The daily work routine in Service is very diverse: from multi-faceted tasks to working with colleagues from other departments to answer the questions and problems of customers, or even colleagues, together.
Why do you like working in Service?
Over time, in Service you learn about the complete range of gear units. This makes the work very diverse. Among other things, this includes preparing cost estimates as well as constructing and repairing all kinds of gear units.
Then there is complaint processing, where it's important to identify the cause of the problem. Other departments are often consulted to make the assessment.
I also enjoy helping customers in good time, satisfying them, and getting positive feedback. That is one of the most important tasks for me.
What does your workplace require? What skills do you think are particularly important to be successful here?
What you need is good technical understanding, solid comprehension, reliability, and flexibility. Due to the wide range of gear units that we service, experience is a big advantage.
Do you like to work in a team? What does teamwork look like for you?
Yes, I enjoy working as a metal specialist in a team and I try to support my colleagues as best as possible with my experience and knowledge. Teamwork also includes discussing problems objectively and explaining mistakes.
Why is STOBER the right employer for me?
I have a secure job here, there is good cooperation in the department, and it is a medium-sized company where you still know the managing directors individually.
TOGETHER WE PUT THINGS IN MOTION