Industrial clerk

with additional qualification in
international marketing/international trade.
Industrial clerk apprenticeship with additional qualification at STOBER
Rising talent has a home here – we give you the ideal start
into your future career.
At our company, you can put your strengths to use
and grow with new tasks.
Join a team that welcomes you with open arms, shares its knowledge with you, and is always there to give you advice and support.
Together with you, we put things in motion.
Trainees are put into all the departments that are relevant for
an industrial clerk plus.
The combination of international business skills and two job-related foreign languages is what makes this training program so special. In addition, the vocational school provides training in foreign trade and international marketing as well as in the foreign languages English and Spanish.
To be admitted to the program, students must have a high school diploma or comparable qualification.
Jana Mezger on her training at STOBER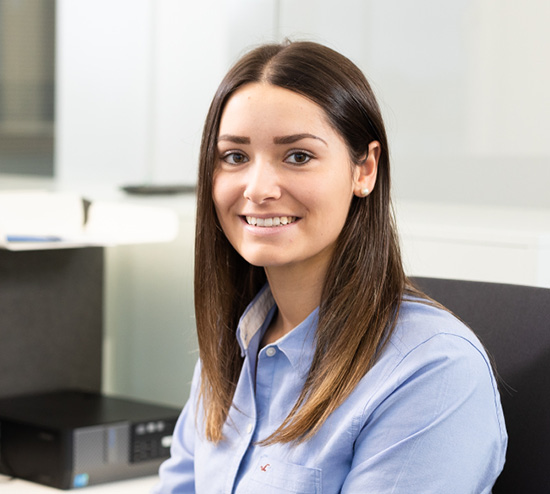 Why did you decide on this training program/profession?
I wanted to do an apprenticeship because it also provides practical experience in the company. An apprenticeship as an industrial clerk seemed to fit me because it teaches you the most important basics you need these days in such a distinct economy like ours. You can also work in many different professions with an industrial clerk apprenticeship.
Why STOBER?
I heard from many people that the company offers very good training. I was definitely impressed by all the offerings, such as training courses, trainee outings, and the 35-hour working week. These were a major factor in my decision.
What does your weekly and daily routine look like?
In the departments, the trainees can work independently to varying degrees – sometimes more, sometimes less. Some departments have what we call daily tasks. I usually prioritize doing them at the beginning of the day. After that, I sometimes watch my colleagues at work, or I work independently on assignments that instructors in the departments give me.
What tasks and activities are part of your training?
During my apprenticeshipas a industrial clerk plus, I am going through almost all departments in the company. In Sales, for example, I enter orders and prepare quotations. In Purchasing, I place orders or retrieve contracts. In Service, I create and dispatch delivery notes, prepare cost estimates, and then approve them. Trainees are also involved in the assembly planning and delivery of our products. In Accounting, I enter invoices and then post them. Among other things, industrial clerk trainees can also spend a few days looking around and helping out in some of the production departments.
What do you enjoy about your training and your job?
Our products and processes in the company seem quite complicated at the beginning. I enjoy the fact that as you go through the departments, you get to know and understand these processes and products better and better each time. In general, I enjoy learning new tasks on the business side every day.
What qualities and skills do you think a person should bring to the job?
You should definitely be open to new challenges and tasks. Even if something doesn't work out the way it should, you also need perseverance and patience.
What personal tips do you have for students about apprenticeships?
Training is an important time. It's the cornerstone for the work life that you're starting. If there are any questions or unclear issues, be sure to work them out. For me personally, it always helped to take a lot of notes and write things down. That way, I always had an overview and could read it again if I had any questions.
What was your best experience at STOBER?
What I like most is that getting to meet and work with so many people in the departments.

What does the training at STOBER mean to you?
Definitely versatility and the variety of being in a different department every few weeks and learning new tasks. The many training opportunities you get as a trainee are another positive aspect. After just a short time in the departments, I also get as an industrial clerk plus my own tasks with a high level of responsibility.
Industrial clerk plus – more interesting info