Industrial clerk apprenticeship at STOBER
Rising talent has a home here – we give you the ideal start
into your future career.
At our company, you can put your strengths to use
and grow with new tasks. Join a team that welcomes you with open arms, shares its knowledge with you, and is always there to give you advice and support.
Together with you, we put things in motion.
During their training as industrial clerks, the trainees learn the activities of departments such as Purchasing, Production control, Human resources, Marketing, Domestic and International sales, Financial accounting, Controlling and Shipping.
Together we move big.
Passion that keeps things moving.
Giuseppe La Pietra on his training at STOBER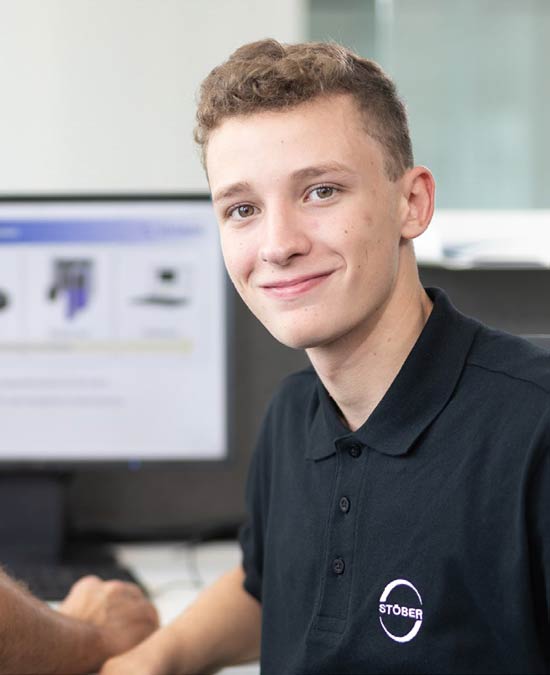 What apprenticeship are you doing at STOBER?
An apprenticeship as an industrial clerk.
Why are you doing your apprenticeship at STOBER?
My father has also been doing the same profession for many years, so I "grew up" with this job. I've always been interested in this profession.
What tasks and activities are part of your training?
I have different kinds of tasks. It always depends on what department I'm in, from putting orders together to purchasing the material.
What qualities do you think a person should bring to the job?
You need to be outgoing and ambitious.
What personal tips do you have for students about an apprenticeship?
Don't be in too much of a hurry when choosing a career. Take your time and pick the right one!
What was your best experience at STOBER?
The day-trip for trainees on the 2nd day of training.
What does the training at STOBER mean to you?
All employees are social and helpful, especially the instructors.