Industrial mechanic apprenticeship at STOBER
Young people with a passion for technology have a home here – we give you the perfect start for your future career.
As a technical apprentice, right from the start, you are involved when we take on new projects and launch trendsetting technologies.
Your dedication is in demand and will be greatly appreciated by your colleagues. Join a team that treats you as an equal and is glad to share its expertise with you.
Together with you, we put things in motion.
Industrial mechanics produce components for machine construction on state-of-the-art machine tools and assemble and service systems.
These skills are taught in our training department and by spending time in various specialist departments.
I am motivated by working with young people.
"Some of the best experiences at STOBER are the moments when trainees thank us sincerely for the time we spent together.
At our company, you have the opportunity to learn from the ground up. You're not just prepped with a few skills for the exam."

– Hartmut Peichl, Training Workshop Supervisor



Benjamin Hagmaier on his training at STOBER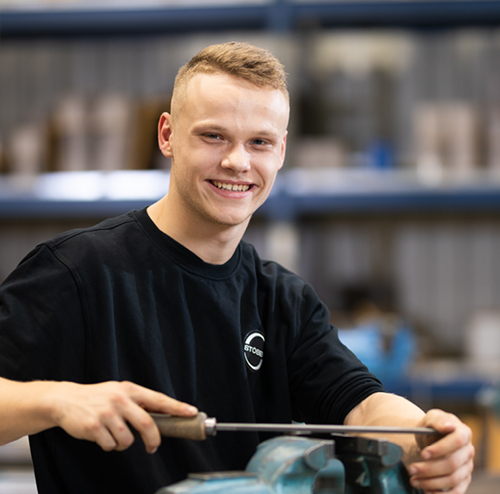 What apprenticeship are you doing at STOBER?
An apprenticeship as an industrial mechanic.
Why did you decide on this training program/profession?
Because I enjoy working on metal and also taking on complex tasks.
Why STOBER?
Because STOBER is a globally active and future-oriented company with a wide range of products.
What does your weekly and daily routine look like?
Once or twice I attend school to learn theoretical skills. On the other days, I improve my practical skills in the company.
What tasks and activities are part of your training?
My tasks include the manufacturing of different parts and components as well as the passing of various internal departments to acquire product-specific knowledge.
What do you enjoy about your training and your job?
I think it's great that I always have new tasks and challenges.
What qualities and skills do you think a person should bring to the job?
Technical understanding, the ability to work in a team and perseverance.
What personal tips do you have for students?
Bring interest and enjoy working in a team. Skilled craftsmanship is an advantage.
What was your best experience at STOBER?
The group excursions with all trainees.
What does the training at STOBER mean to you?
The good team spirit of the trainees and the very good working atmosphere at STOBER.