Specialist
Metal technology.
Metal technology specialist apprenticeship at STOBER
Young people with a passion for technology have a home here – we give you the perfect start for your future career. As a technical apprentice, right from the start, you are involved when we take on new projects and launch trendsetting technologies.
Your dedication is in demand and will be greatly appreciated by your colleagues. Join a team that treats you as an equal and is glad to share its expertise with you.
Together with you, we put things in motion.
The tasks include assembling our wide range of gear unit types and testing the gear units on various test benches.
Besides basic mechanical training, the skills are taught as you pass through the departments.
I am motivated by working with young people.
"Some of the best experiences at STOBER are the moments when trainees thank us sincerely for the time we spent together. At our company, you have the opportunity to learn from the ground up. You're not just prepped with a few skills for the exam."
– Hartmut Peichl, Training Workshop Supervisor for metal technology specialists and others
Tom Schmeißer, an instructor with passion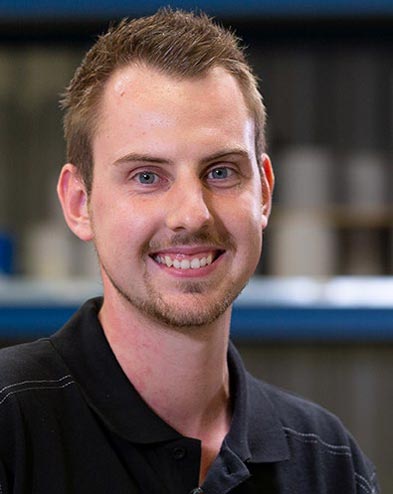 Which areas are you in charge of?
The training workshop for industrial mechanics and metal technology specialists.
Why did you become an instructor?
Being an instructor for metal technology specialists is much more than just an ordinary job. You get to watch young specialists develop and actively help them along the way. When we successfully set them out into the working world at the end of their training, it fills you with pride Thats why I became a trainer and I want to keep it that way.
What is your goal as an instructor?
My goal is to train our apprentices as well as possible – even beyond the job as a metal technology specialist. We use free-time activities to promote togetherness as a team and communication among each other, which is absolutely vital for everyday work. They also have several project assignments to learn how to deal with time pressure without sacrificing quality.
What does the training at STOBER mean to you?
The training program at STOBER is almost one-of-a-kind because of its high level of variety. There are hardly any days when the same thing happens. From the basics to multi-department projects, really everything is included. Even go-karting and bowling in our spare time is part of training, which welds us even closer together.
Why do you enjoy working with trainees?
Thanks to trainees and their creative ideas, new projects and company improvements are constantly being developed. It's incredibly fun to see how something like this evolves.
What is your personal recipe for success?
I am constantly trying to increase my knowledge so that I can show our trainees even more. It's important to always stay on the ball and also try new things.
What advice do you have for young people who want to start their careers?
They should all use a variety of internships to get an idea of what the career is like and get plenty of information on the Internet.
Impressions of the workplace