Technical
product designer.

Specialization in machine and system design
Technical product designer apprenticeship at STOBER
Young people with a passion for technology have a home here – we give you the perfect start for your future career. As a technical apprentice, right from the start, you are involved when we take on new projects and launch trendsetting technologies.
Your dedication is in demand and will be greatly appreciated by your colleagues. Join a team that treats you as an equal and is glad to share its expertise with you.
Together with you, we put things in motion.
All mechanical parts of our products are drawn on state-of-the-art 3D CAD systems.
Besides basic mechanical training, students learn the details of modifying drawings, making calculations, and creating new designs.
Jana Dußler on her training at STOBER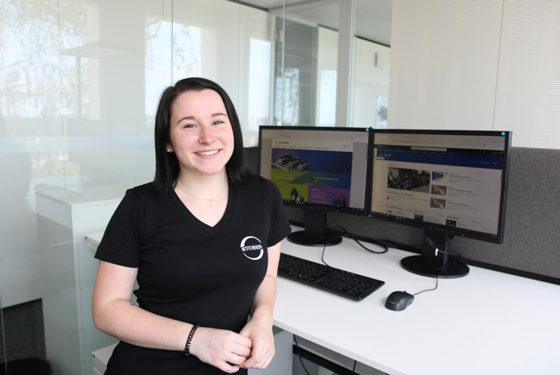 What apprenticeship are you doing at STOBER?
An apprenticeship as a technical product designer.
Why did you decide on this training program/profession?
I was told a lot about this profession, which sounded very exciting. During an internship, I found out that this profession suits me really well and that I enjoy it.
Why STOBER?
STOBER offers excellent training for technical product designers and was awarded the seal of quality by the Chamber of Industry and Commerce. It provides many opportunities for further training, which are supported and encouraged by the company.
What does your weekly and daily routine look like?
I have three days of vocational school over two weeks and on the remaining days I do my tasks in the company.
What tasks and activities are part of your training?
I create 3D models and 2D drawings on the computer, write and send change notices, create gear parts, and more.
What do you enjoy about your training and your job?
I like creating gear parts in the 3D program and deriving drawings from them.
What qualities and skills do you think a person should bring to the job?
An interest in the occupation, visual thinking skills, knowledge in mathematics, and an understanding of manufacturing processes.
What personal tips do you have for students
Be open to new things, show interest, don't pretend to be someone you aren't, and do what you enjoy.
What was your best experience at STOBER?
My first outdoor day at the start of my training. This gave me a chance to get to know the other trainees and future technical product designers better, which made me feel much more comfortable right away and made me less nervous.
What does the training at STOBER mean to you?
That you know your colleagues, you can ask anyone for help and you get it.