With expert commissioning, you are sure to get the ideal performance profile of a single drive or the perfect coordination of multiple drive axes.
We will gladly commission your machine together with you
Our customers can always put their particular STOBER system into operation themselves. Our included software guides you step by step through the entire project configuration and parameterization process. In addition, we also offer corresponding training programs.
If necessary, we will also help you individually.
Our offer for this usually includes the following points:
✓ Checking the installation.
✓ Project configuration and parameterization.
✓ Simulation tests.
✓ Trial operation.
✓ Final acceptance.
✓ On-site application training.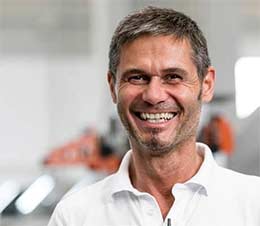 "We have installed gear units, motors and drive controllers from STOBER in nearly all our systems. STOBER has been there from the beginning and supports us in new projects from the first stroke of a pencil in the design phase until commissioning. Our years of cooperation are shaped by openness and honesty and emanate a rather special spirit. The technical consulting, the support – that is real, experienced partnership."
– Jürgen Leicht, Managing Partner, Leicht Stanzautomation GmbH