Razor-sharp dimensions:
SERVOsoft®.
Are you designing a system and facing the task of completely redesigning the drive? Did the requirements for a machine change and you need to re-adjust? A retrofit is due?
With SERVOsoft®, you have a tool at your fingertips that lets you design your drive systems precisely and in line with the application in just a few steps.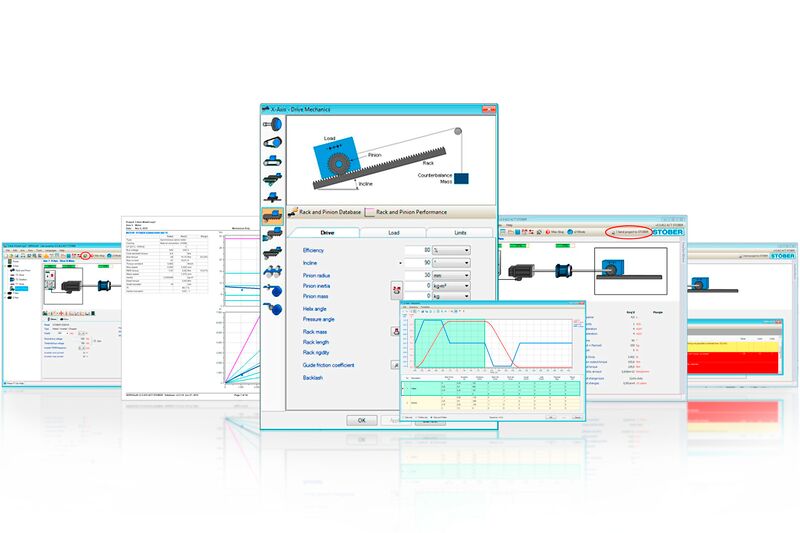 The features of SERVOsoft®.
Easy creation of sequences and motion profiles
You can access 15 predefined mechanical configurations, create or import sequences with S-curve/jerk, CAM and polynomial profiles, define formulas for payloads and thrust and display them in sequence diagrams.
The perfectly scaled drive system
Enjoy significant benefits in terms of performance and cost as you scale your ideal combination of a STOBER drive, motor and gear unit. Made to match your application. Completely free of play. You avoid losses in performance, reduced efficiency and increased financial costs for procurement and maintenance.
Project-oriented approach
Create projects with up to 50 axes in a single configuration or in a shared DC link. Generate multi-axis calculations, detailed power flow and energy storage analyses as well as accurate energy consumption and thus the resulting total system cost.
Precise modeling according to standards
SERVOsoft® is used to accurately model multi-axis systems with any combination of drive, motor and gear unit. All calculations are based on current industry standards and scientific principles in dynamics.
Detailed and substantiated scenario analyses
Use the integrated system check to generate lists of all components whose limit values are exceeded during operation.
With extremely accurate calculations and an error rate of less than 1%, SERVOsoft® is the modeling tool that lets you make even complex or cost-effective decisions quickly and accurately!
Use SERVOsoft® for your system, too!
Contact us and get your personal software license for free.