Predictive Maintenance: For a long, efficient service life
STOBER Offers New Feature for Predictive Maintenance:
STÖBER Antriebstechnik GmbH + Co. KG has developed a feature for the predictive maintenance of its geared motors. The highlight: For this IoT solution, a configuration from the electronic nameplate of the geared motor can be applied or the data can be downloaded via an online service. Users do not need any special know-how to evaluate the data and handle it accordingly, but they can include them in the analysis. No additional sensors, cables, software or other hardware components are required.
Pforzheim, Germany, 2022-04-05 – How likely is it that your geared motor will soon fail? Is it correctly dimensioned for the application? When is actually the ideal time to replace the geared motor, taking sustainability and availability into account? To reliably predict the answers to these and similar questions, drive specialist STOBER now offers an efficient solution for predictive maintenance – without external sensors or additional wiring. The feature is already installed in new 6th generation drive controllers, and drive controllers of this series that are already in use will receive the function via firmware update. It will be activated automatically. The required data are either stored in the electronic nameplate or can be easily downloaded via an online service.
STOBER Predictive Maintenance monitors the geared motors of the drive system. Their life performance is calculated using model-based analysis and output in the drive controller software via a life performance indicator, which is a value between 0 and 100 percent. When the calculated life performance reaches 90 percent, the software issues a recommendation to replace the geared motor and, if present, also makes provides a controller for it in the form of a readable parameter.
Another convenient feature of STOBER Predictive Maintenance is the load matrix. It is a solid data base for recording real-world load situations. The cumulative load condition of the drive system is continuously documented over the entire operating time. The load matrix can be exported via the drive controller or a controller as a JSON or CSV file, then imported into Excel, for example, for editing and visualization. This provides users with a diagram that they can interpret.
Based on the load matrix, users can detect any errors or anomalies and deduce possible causes. For example, say a system is configured for 90 percent torque load. If this value increases significantly over time, this could indicate a defect. On this basis, users monitor the geared motor and also receive reliable information about the actual load situation of the machine. They do not require any special know-how – even without subsequent data processing or complex analysis functions, significant improvements in quality and efficiency are possible.
The new feature from STOBER provides users with maximum transparency and unrestricted access to the measured data of their drive system. Users can recognize trends and are consequently able to act as efficiently as possible. The new solution is completely integrated into the STOBER system and is available with all 6th generation drive controllers in conjunction with all geared motors.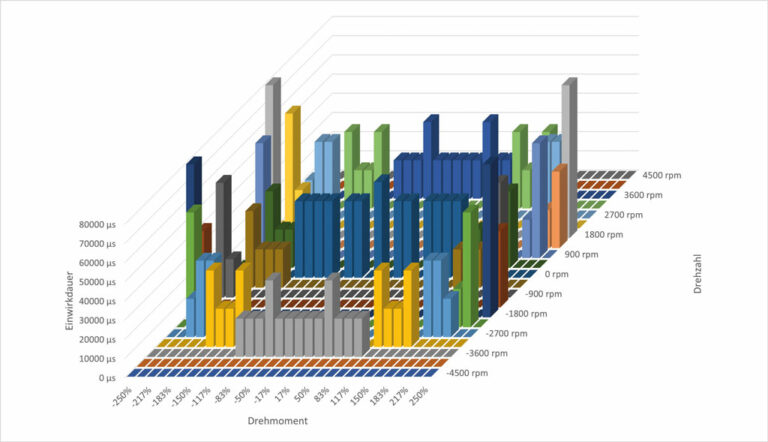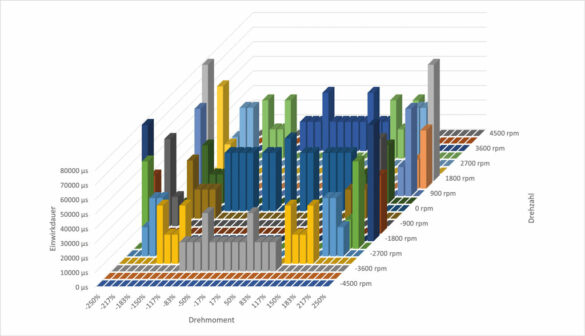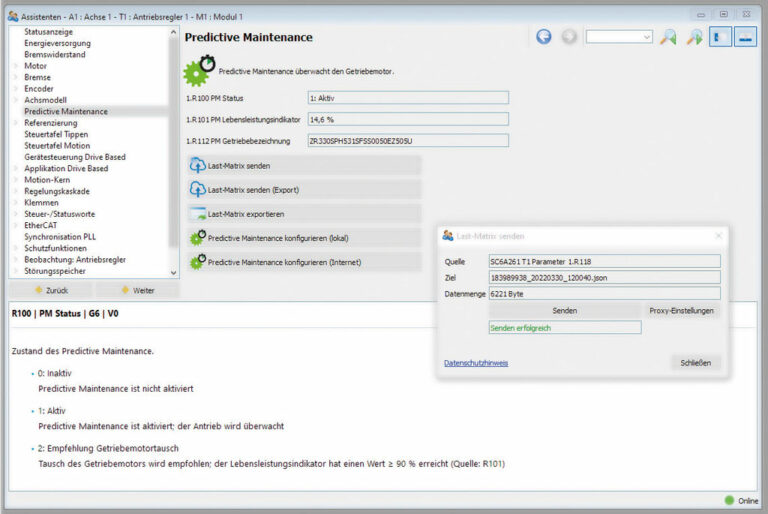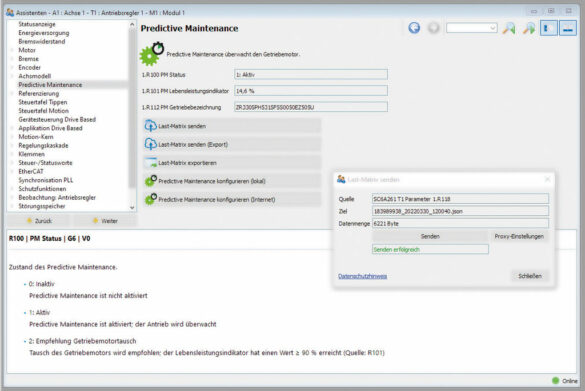 Contact data for country-specific publication:
STÖBER Antriebstechnik GmbH + Co. KG Claudia Grotzfeld Kieselbronner Str. 12 75177 Pforzheim│Germany Phone: +49 7231 582-1460 claudia.grotzfeld@stoeber.de www.stoeber.de
Media:
Solveig Moll Kieselbronner Str. 12 75177 Pforzheim │ Germany Phone: +49 7231 582-1183 solveig.moll@stoeber.de www.stoeber.de
Please send a specimen copy to our agency:
a1kommunikation Schweizer GmbH
Eva Neubert
Projektmanagement│Kundenbetreuung
Oberdorfstr. 31A
70794 Filderstadt│Germany
Fon: +49 711 945 416-27
cbs@a1kommunikation.de
www.a1kommunikation.de
Contact details for country-specific publication:
Germany:
Austria:
STÖBER Antriebstechnik GmbH + Co. KG
Kieselbronner Str. 12
STÖBER Antriebstechnik GmbH
Hauptstraße 41a
75177 Pforzheim
4663 Laakirchen
Phone: +49 7231 582-0
Phone: +43 7613 7600-0
sales@stoeber.de
sales@stoeber.at
www.stoeber.de
www.stoeber.at